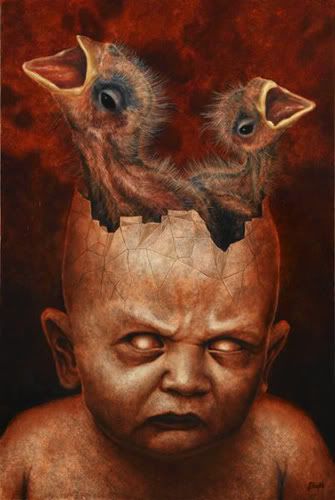 I just read this from AP's facebook status. Yeah, the very AP who said my facebook
photo was too thailandish
.
I think he is having some sort of delusions. Frankly, does this sound like the words of a sane person?
one same earth..u cn keep ur vertu,lv,gucci,ck,dkny,tod,tomford,etc.in ur pocket..am not impressed..the day u breathe a different kind of air than mine, come to me, i bow to u..one same earth
Come to me...I bow to you?? He is getting deluded and bizarre. I dun think he is depressed.
And in my present state of mind, I cannot reach out to him.
It reminded me of Mavis Hee, a local singer, who screamed at some guys in a hotel, "Call me GOD".
-------------------------
New Paper
29 June 2006
SINGER'S TURMOIL
Mavis Hee sent to Institute of Mental Health after she trails hotel guest and yells: 'Call me God'
Friends and fans wonder: What made he snap?
By Maureen Koh
BIZARRE.
That is the word for the behaviour of homegrown singer Mavis Hee.
She allegedly tailed a hotel guest from the lobby of the Ritz Carlton Singapore into a corridor, ranting incoherently most of the time.
Then suddenly, said a hotel bellboy, she shouted at the guest, in the presence of others: 'Call me God!'
The police were called, and she was taken to the Institute of Mental Health (IMH).
The incident took place last Thursday around 9pm.
Said a bellboy who did not want to be named: 'The guest looked quite uncomfortable but did not seem to know what to do.'
He added: 'No one really knew who she was or recognised her. Our concern was more for our guests.'
SECURITY ALERTED
A staff member from another department in the hotel who realised that something was amiss, had alerted the security department.
Two of the hotel's security officers went to take control of the situation. However, when they were unable to obtain a satisfactory response from Mavis, the hotel decided to call the police.
The hotel's director of public relations, Mr Anton Kilayko, told The New Paper: 'As with standard operating procedure, two colleagues from the security department were deployed.'
He said they were unable to provide further details.
Mr Kilayko explained: 'We are leaving investigations to the police. However, it is our responsibility to protect the privacy of our hotel guests - and everything has to be kept confidential.'
It is not known if Mavis knew the guest or what sparked off the shouting.
Mavis, 32, was taken to IMH the following day and warded for psychiatric observation.
Industry sources and friends who know her personally were shocked when they read the news in yesterday's Shin Min Daily News.
Ms Merisa Chu, chief promotions manager at HIM Music, has known Mavis for nine years. She has also handled the singer's album promotions.
NICE PERSON
Ms Chu told The New Paper: 'Mavis is really a very nice person. Even though she is no longer releasing albums, we still keep regular contact with each other.'
The last time Ms Chu saw Mavis was in April, with four other friends.
She added: 'I did not sense anything odd at all. Our conversations were about very mundane stuff, like work, music and updates on how we were.'
Another long-time friend who had worked with Mavis when she first entered showbiz is Ms Sheila Koh. She expressed disbelief when The New Paper contacted her.
'Are you sure? Did you get the right name? Could this be some prank that someone's pulling? Are you sure it happened here? In Singapore?'
Ms Koh added: 'I have been away for a while too and had been meaning to contact her. But you know how it is, we just never get around to it. And the last I heard, she was always busy with shows in China.'
The New Paper also spoke to two of the singer's fans.
Mr Lionel Ng, a freelance designer, snorted when we first spoke to him.
'Please lah, how can this be? You are talking about Mavis and this happening in Singapore? At such a posh hotel?'
When it became clear that it was no prank, Mr Ng said: 'I just cannot believe it. Mavis does not look like someone who'd snap just like that. There must be something troubling her... and maybe she's just too stressed out?'
COMFORT AND ADVICE FOR FAN
He said he keeps in touch with her.
He said that in May last year he had told her that he had split up with his girlfriend.
Claimed Mr Ng, 30: 'She even sent me a few SMSes to comfort me and advised me to learn when it was time to let go.'
The last time he heard from Mavis was an acknowledgement to a Chinese New Year greeting that he had sent her this year.
Clerk Lynn Tan, 27, said: 'If this is true, it is very sad. We have long heard that Mavis has been troubled by her love life, but we've never confirmed if that was true. Maybe she just could not take it any more.
'We truly hope that she can pull through.'
She's been away from the scene for a few years
MAVIS Hee, a former assistant photographer, was named Singapore's Faye Wong when she started out in showbiz.
She released her debut album, Knowing Well, in 1994. And followed that with a string of hits which took her to Taiwan, Hong Kong and, finally, China.
Her wide appeal in China even saw Mavis appointed a cultural ambassador in 2001.
Mavis has also dabbled in acting, with bit roles in a few TV drama serials.
She was 'handpicked' to star in famous cinematographer Chris Doyle's first directing effort, Away With Words, in 1999.
Mavis has had her share of bad publicity - from critics panning her bad dress sense to gossip about her personal life.
In 2000, she had to battle rumours that she was having an affair with her married producer, Chen Jiaming. She denied this in an interview with this newspaper.
She has been lying low for the past few years - though she was said to have been performing regularly in China.