New Paper
16 April 2009
Caught sleeping on the job
Traffic warden sacked
THE traffic warden parked his motorcycle, took off his white uniform shirt and hung it on the bike's handlebars.
He then lay on the ground near the bike and took a nap.
But someone saw the incident at a Jurong carpark, snapped pictures and posted them on Stomp on 16 Mar.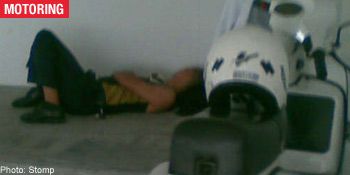 The warden was sacked by his employer, Certis Cisco.
A spokesman was quoted on Stomp as saying: 'Unacceptable behaviour such as sleeping on the job is a serious misconduct and carries a penalty of termination.
'At Certis Cisco, all our employees are committed to uphold high standards of professionalism, service excellence as well as exhibit other equally important core values such as care and integrity.
'We do not tolerate any behaviour that runs counter to these values.'
Suntec security guard not 'feeling well'
HER arms were folded and her head was bowed. A fan stood nearby, blowing at her. The security guard at Suntec City was fast asleep.
Again, someone took pictures and sent it to Stomp.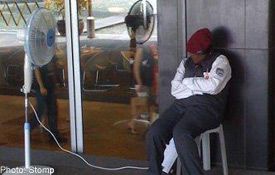 It happened on 15 Mar when the IT show was on at Suntec City.
In a reply to Stomp, a spokesman for Suntec City Management said its investigation revealed that the contracted security guard had not been feeling well, but she failed to inform the management and remained at her assigned duty post.
'Appropriate action has been taken,' said the spokesman, without elaborating.
----------------------------
New Paper
16 April 2009
Should NEL officer be punished for sitting?
Picture of him in priority seat posted online leads to disciplinary action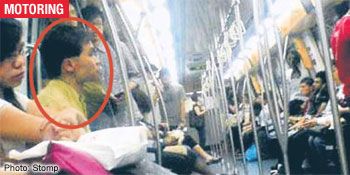 AS OTHER passengers stood around him, the train officer plonked himself on an empty priority seat on the North-East Line (NEL) train.
His action was caught on camera by a commuter who sent it to Stomp, The Straits Times' interactive website.
The commuter felt the officer, dressed in a lime-green uniform shirt, should have given up his seat to other standing passengers.
His employer thought so too. SBS Transit, which operates the NEL, said it has taken disciplinary action against the officer.
But it would not reveal the exact form of action it took.
The incident took place on 29 Mar at around 10.30pm. Ms Tammy Tan, SBS Transit's vice-president of corporate communications, said the man was a customer service officer. He works on board the trains to help passengers in need and to respond to technical difficulties.
Explaining the need to discipline him, Ms Tan added: 'As a company guideline, staff who are on duty are expected to give up their seats to passengers as part of our customer service standards.
'In situations where they fail to do so, disciplinary action will be taken.'
The officer was sitting on a priority seat, which is allocated for needy passengers such as the elderly, the disabled and pregnant women.
These seats are located next to train doors with signs above the seats to indicate that they are for needy passengers.
Ms Tan said if the train had been empty, it was okay for the officer to sit down as long as he performed his duty.
But most of the 18 people whom The New Paper spoke to felt the officer did not deserve to be punished.
When we showed them the picture, many pointed out that all the passengers standing nearby were able-bodied young adults.
Mr Lee Ting Wei, 19, a full-time NSman, said: 'Perhaps SBS Transit should have just told him off.
'Any punishment more than that would have been too harsh because there were no pregnant women, elderly or disabled passengers around at that time.'
Sympathetic
Madam Heng Sue San, 37, a housewife, agreed. 'If there is no one in need of the seat, I wouldn't make a fuss,' she said.
'But if the seat is intended for the elderly and there is someone like that around, I would expect him to give up the seat.'
Mr S W Hor, 55, a lecturer, was sympathetic towards the officer. 'It doesn't matter even if he is an (NEL) employee. He could have been tired and should be allowed to take a seat,' he said.
Mr Hor also wondered if the matter had been blown out of proportion because the picture was posted on the Internet.
But some people felt that the officer deserved to be disciplined.
Retiree A L Tan, 78, said: 'Since he works for the (train operator), he should have known better than to not let other passengers have the seat.'
Housewife Yeo Ah Sim, 67, felt the officer should have set a good example. She said that many young people don't give up their seats, but as a NEL employee, he should have shown more courtesy.
The other train operator, SMRT, has a similar code of conduct for its staff.
A spokesman said: 'We encourage staff to be friendly and helpful to passengers. This would include behaving in a courteous and gracious manner like giving way to alighting passengers and giving up their seats to needy passengers.
'Staff in uniform are also expected to maintain a good corporate image by dressing and behaving appropriately at all times.'
However, SMRT would not comment on the form of disciplinary action taken, saying that it would be on a case-by-case basis.
Geraldine Yeo, newsroom intern