New Paper
17 April 2009
LATEST: AWARE PRESIDENT ANNOUNCED
New woman in the hot seat
By Benson Ang
SINCE they were voted in late last month, the new committee of the Association of Women for Action and Research (Aware) had remained tight-lipped.
And yesterday evening, when the committee met for the first time, it was no different.
When The New Paper arrived at the Aware Centre along Dover Crescent at 6.30pm, three of the committee members were already there.
Then other members showed up and entered the centre, ignoring queries by the media. One woman even shielded her face with a plastic file as she hurried in.
Why was a committee member of a high-profile organisation so apprehensive about showing her face? No answers were forthcoming.
Late meeting
Their meeting ran from 7pm till 11pm, after which they announced the new president to replace veteran member Claire Nazar, who had resigned without providing a reason less than a week after being voted in .
Ms Josie Lau Meng-Lee, 48, is now head of Singapore's foremost women's organisation, appointed by the other 10 committee members.
Previous media reports describe Ms Lau as a bank officer.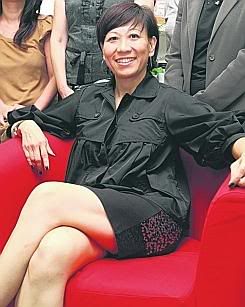 NEW BOSS: New Aware president Josie Lau. TNP PICTURES: MOHD ISHAK

After the meeting, the committee members were still tight-lipped about their backgrounds, why they had moved to take control of Aware and what they planned to do with the 24-year-old women's organisation.
But after midnight, it issued a press statement announcing Ms Lau's appointment and outlining some of its aims.
The new team said it intended to build on the solid foundations laid by the founders of Aware and continue to promote the participation of women, on equal terms with men, in political, social, economic and cultural life.
Ms Lau said in the statement: 'In these challenging times, the new team will actively seek to collaborate and align Aware with other women's organisations, with outreach to girls and women who are affected by the current economic downturn.
'The new team aims to empower women who have been retrenched and equip them with new skills.'
She said Aware will work with training agencies to launch programmes of practical assistance, including budgeting, finance and debt management, career-planning and management of change.
It will continue to provide emotional, psychological and legal support for women.
She added: 'We call on all women of Singapore to rise to the challenge of taking on leadership roles in our nation. We invite volunteers to help make Aware a positive agency of change for the beneficial transformation of our society, where all people regardless of race, religion or sex are valued and have a place under the sun.'
But the gulf between the new committee and Aware's old guard is obvious.
At about 10.15pm, Ms Caris Lim, one of the two veterans left in the new committee, walked out of the meeting, saying that she was not happy with what was happening inside.
On Tuesday, a petition signed by 160 Aware members was delivered to the new committee calling for an extraordinary general meeting (EOGM) within 14 days to improve the transparency of the situation.
Controversy has plagued Aware since an unprecedented number of new members showed up at the annual general meeting (AGM) on 28Mar and voted in the new leadership.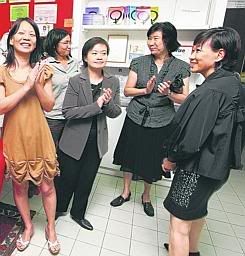 CHEERS: Ms Lois Ng (far left) and the other committe members applaude after their new president Josie Lau (first from left) made a short speech.
Nine of the 12 contested positions went to new members.
The long-term members are concerned with the action of new members voting enbloc at the AGM, Ms Nazar's sudden resignation and whether the new committee will continue with the vision and values of Aware.
Ms Corinna Lim, 44, a veteran Aware member, who spoke for the 160 members, said that these values were 'equality, respect, helping women in need, diversity and empowered choice'.
'Choice, choice is very important. There are rumours that the new committee is very conservative and doesn't want to promote choice...
'It just raises a lot of questions, and that's not good for Aware.'
She added that if the members were not satisfied with the answers given by the current committee, then they may call for a vote of no confidence and vote in a new committee.
An EOGM is not confirmed, but is expected to take place in about a month.
Written to forums
Some members of the new committee and the people who voted them in have written letters to The Straits Times to speak out against the repeal of Section 377a of the Penal Code, which criminalises sex between men.
In October 2007, Ms Jenica Chua, the secretary of the new committee, accused Mr Siew Kum Hong of overstepping his boundaries as a nominated Member of Parliament and of advancing the gay cause when he submitted the petition to repeal 377a.
In August 2007, Dr Alan Chin, an Aware associate member who supported the newcomers, wrote a letter warning about high-risk gay lifestyles.
When contacted, Dr Chin declined to be interviewed.
-----------------------------
New Aware committee
President
:
Josie Lau Meng-Lee
Vice-president:
Charlotte Wong Hock Soon
Honorary secretary:
Jenica Chua Chor Ping
Assistant honorary secretary:
Sally Ang Koon Hian
Honorary treasurer:
Maureen Ong Lee Keang
Assistant honorary treasurer:
Chew I-Jin
Committee members:
Caris Lim Chai Leng
Catherine Tan Ling Ghim
Irene Yee Khor Quin
Lois Ng
Peggy Leong Pek Kay