It was Sunday. We were suppose to see the movie Incredible Cock.. Oops Hulk. But SO had came back from his mama's place at 11 am plus and the movie was at 110 pm.
I was still sleeping in bed after a late night and that awful runaway dream. So I told him maybe another day then. We always watch movie on sundays at Cathay cinema cos they are having a promotion with our telco company, charging only half price for the second ticket. We dun watch movies on week day nights cos SO is always so tired after work.
We had some vouchers which was expiring on 30th June and I decided that we have to go out and use those vouchers.
The first was Best Denki, an electrical and electronics store. SO had 14 points which expires on the 30th Jun. Frankly, I could not decide what to get. For 34 points, I could get a 4Gb thumb drive. I just need to top up $20 for that.
But as we were on the train, I was flippings the reward brochure when I came across the OSIM iCheck 100. It was an device to measure blood pressure.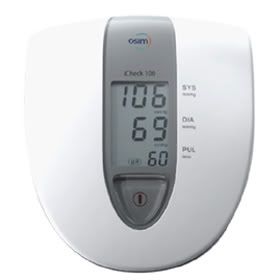 SO had been pestering me for the longest time to get a blood pressure machine. This model, which normally cost $118 now only cost 98 points to redeem. And with our 14 points, we only need to pay $84.
However, I would have prefer to get the more expensive model, the iCheck 500, which can monitor blood pressure and fat content but cost around $248.
To be continued.......